A Timeline of Our History
1901
The Moana Hotel opens in Waikīkī in March, ushering in an era of tourism, and with it emerges a crew of extremely talented and generally jovial group of men called, 'The Waikīkī Beachboys.' The Waikīkī Beachboys appear on the scene with a revival of traditional Hawaiian watersports, surfboard riding, and outrigger canoe riding. They are described as "both a cause and byproduct of the booming Hawaiʻi tourist trade; they earn a living primarily by lifeguarding and giving surf lessons and canoe rides, and spend their free time surfing, swimming and playing music."
1907
Half Hawaiian, half Irish Waikīkī Beachboy George Freeth travels to California and introduces the art of surfboard riding to the Continent. Freeth is also credited with inventing several rescue techniques and equipment pieces, including the rescue paddleboard. He is thought to be the first professional lifeguard and received a Gold Lifesaving Medal in 1908 for a rescue off Venice Beach. He died in San Diego in 1919 during the influenza pandemic.
1910
Two rival surfing canoe clubs form on Waikīkī Beach - the Outrigger Canoe Club and the Hui Nalu Surfing Club. The clubs help steer the mostly freelancing Waikīkī Beachboys into more organized groups to offer tourist related services on Waikīkī Beach, including surf and outrigger lessons, and volunteer lifeguard services. They are paid in tips.
1912
Professional lifeguard services are introduced informally when two Beachboys from the Hui Nalu Club are stationed near the Moana, where they have an office in the hotel under the auspices of the Territory of Hawaiʻi's Board of Harbors Commissioners.
1916
Hui Nalu Club Captain Dude Miller made an arrangement with the Moana Hotel to provide a beach concession which became known as the "Moana Bathhouse Gang." Miller demanded that his Beachboys be clean-cut, wear a uniform, and follow a strict code of conduct. They were required to keep the beach clean and safe and provide volunteer lifesaving or lifeguarding services.
1917
Territory of Hawaiʻi Act 201 officially establishes a "Life-Saving Patrol" for Waikīkī Beach, and has come to be celebrated as the birth of the Ocean Safety Division on Oʻahu. Act 201 called for assignment to Waikīkī Beach of two members not less than 18 and not older than 40 years of age, who were "selected for their strength and ability as swimmers and boatmen, and shall be expert in the use of the methods of resuscitation, both with and without apparatus, apparently drowned persons." These first city lifeguards were paid $75 a month. The City & County of Honolulu officially celebrates this event as the birth of its lifeguarding service.
1921
Territory of Hawaiʻi Act 16 amends the 1917 law to give the patrol a formal name and increase the patrol from two to four members, with one designated as "Captain" of the Territorial Beach Patrol, vested with special police powers.
1927
The Royal Hawaiian Hotel opens and soon becomes one of the premier international vacation playground destinations for the rich and famous. The number of Waikīkī Beachboys increases with the growing number of wealthy tourists.
1934
The Outrigger Canoe Club forms the uniformed Waikīkī Beach Patrol to bring individual Beachboy entrepreneurs under a single concession. The unsalaried Beach Patrol is paid in tips with Beachboys taking care of wealthy tourists and ensuring the safety of visitors while engaged in watersports.
1935
The Territorial Beach Patrol moves its official headquarters from the Moana Hotel to the Waikīkī Natatorium.
1941-45
Temporary lifeguards were recruited and hired during World War II as the department watched as most of its' youngest personnel were called to duty in the military.
1946
The City & County of Honolulu Volunteer Lifeguard Service is organized.
1947
The City & County of Honolulu's Board of Parks creates two civil service positions, both "Lifeguard Captains," in order to supervise lifeguard volunteers and to act as special police in order to enforce rules and regulations pertaining to beach parks and city beaches.
1949
The Lifeguard Service is officially transferred from the Territorial Board of Harbors Commissioners to the City and County of Honolulu's Department of Parks and Recreation.
1950
Olympic gold medalist William Melvin Smith, Jr. - often called Hawaiʻi's greatest swimmer - returns home from college in Idaho and is named Captain of the Lifeguard Service, and later, the Water Safety Director under the city's Department of Parks and Recreation. Captain Smith held the position for 25 years, and during his tenure, the lifeguard service grew from six lifeguards on the beaches in Waikīkī to more than 200 full-time and part-time Guards all around the island of Oʻahu.
1956
Alexander "Red" J. Adams is appointed a Captain, at the same time as legendary Lifeguard Aloha Kaeo joins the ranks.
1962
Ralph "Buster" Wallwork joins Ocean Safety as a new Lifeguard and would end up rising through the ranks to Captain, and then to Chief of Operations in 1982 until his retirement in 1994
The Honolulu Fire Department begins making shoreline patrols around the island of Oʻahu by pulling a Lifeguard from the Natatorium into the fire truck.
1968
Mākaha Beach Park caretaker and legendary waterman Richard "Buffalo" Keaulana is appointed as the first lifeguard at Mākaha.
The first lifeguard tower on the North Shore is erected at Sunset Beach, and then another at Waimea Bay.
Eddie Aikau becomes the first city lifeguard to work the North Shore. He is tasked with covering all of the beaches and surf breaks between Haleʻiwa and Sunset, using an old city hearse converted to a city lifeguard vehicle complete with rescue board on the roof. He bases at Waimea Bay every day and drives into town to check in once a month at the Natatorium.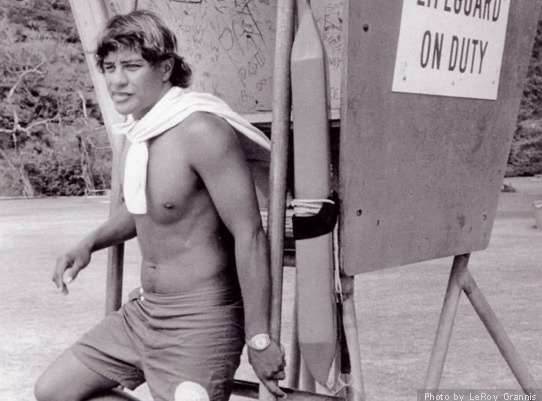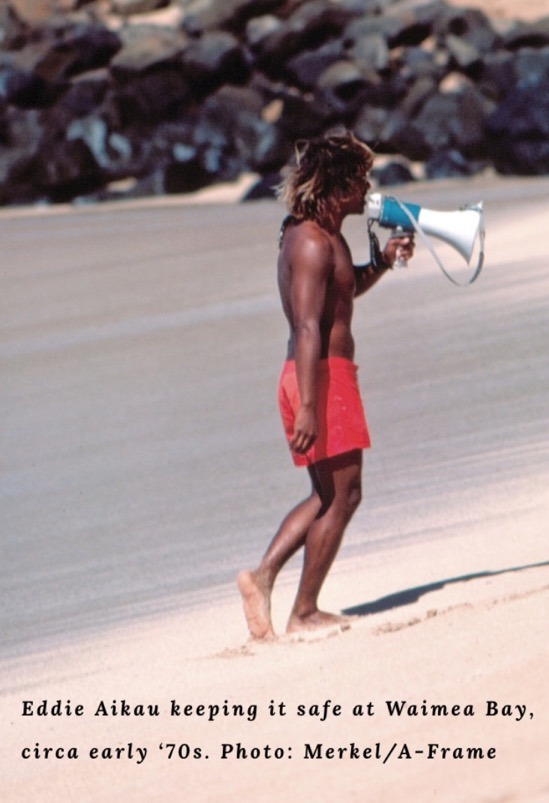 1975
The Department of Parks and Recreation undergoes a re-organization and the "Lifeguard Service" is renamed the "Water Safety Division."
1977
Ken Mesa is appointed Water Safety Division Administrator.
1978
The Water Safety Division is reorganized with civil service lifeguard positions renamed from "Lifeguard" to "Water Safety Officer."
1979
The Natatorium is closed to the public and condemned, forcing the Water Safety Division to move into the caretaker's quarters at the Miyata Mansion across Kapiʻolani Park between Pākī and Lēʻahi Avenues. The Miyata Mansion, or Winstedt House, is later restored by the City and becomes known as Pākī Hale.
1980
Graydon Wollaway is appointed Water Safety Division Administrator.
1981
The Ocean Safety Administrator position is downgraded from a Mayoral appointee to a non-lifeguard civil service position and Ralph Goto, a swimming instructor at the YMCA, is hired.
1983
The World Lifesaving Championships are held on Oʻahu and Hawaiʻi lifeguards compete for the first time in lifesaving skills against Guards from all around the world.
Chief Aloha Kaeo retires and Chief Buster Wallwork is promoted to Operations Chief.
1986
The Water Safety Division moves from the Miyata Mansion/Pākī Hale complex down a few doors into a former pre-school building on Lēʻahi Avenue. The division is still housed here at this small single story building today.
1988
A Hawaiʻi chapter of the United States Lifesaving Association (USLA) is formed and national lifesaving championships are held on Oʻahu.
The Water Safety Division purchases four inflatable rigid hull rescue boats.
1989
The Water Safety Division's first district sub-station opens at Koko Head District Park in Hawaiʻi Kai and is staffed by Capt. Grant Clissold. Prior to this, all Water Safety Officers would call into Headquarters each morning for their assignments.
1990
Lieutenant positions are created and filled for the Water Safety Division.
U.S.L.A. Open Water Lifeguard Certification is accepted by the City and County of Honolulu to replace American Red Cross Lifeguard Certification by the Water Safety Division and the Honolulu Fire Department.
The "Hawaiian Lifeguard Association" is incorporated.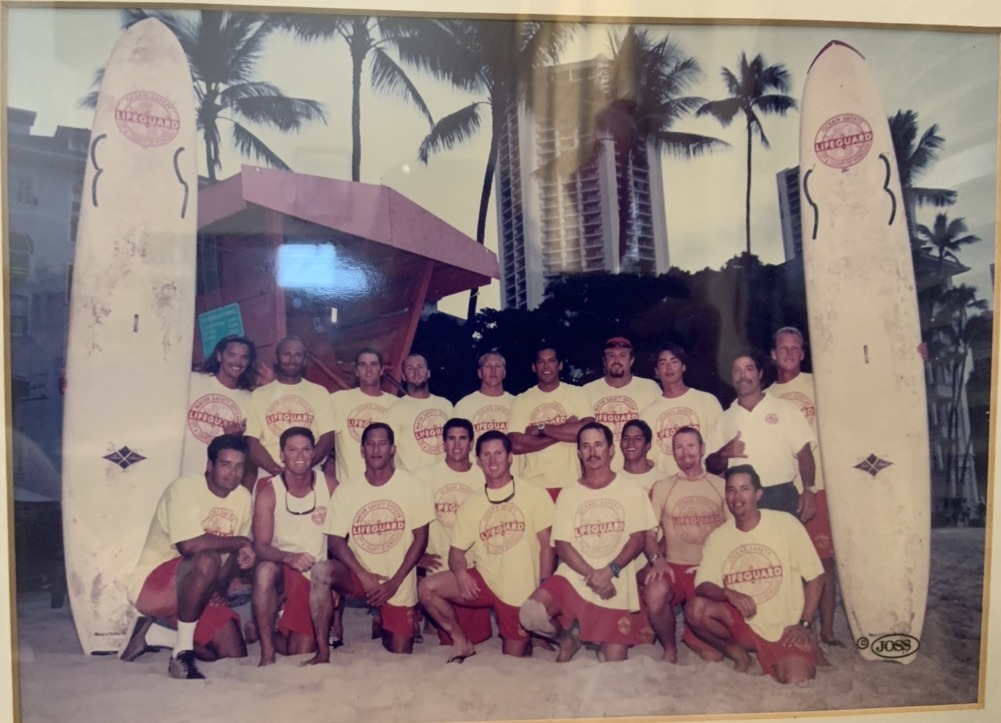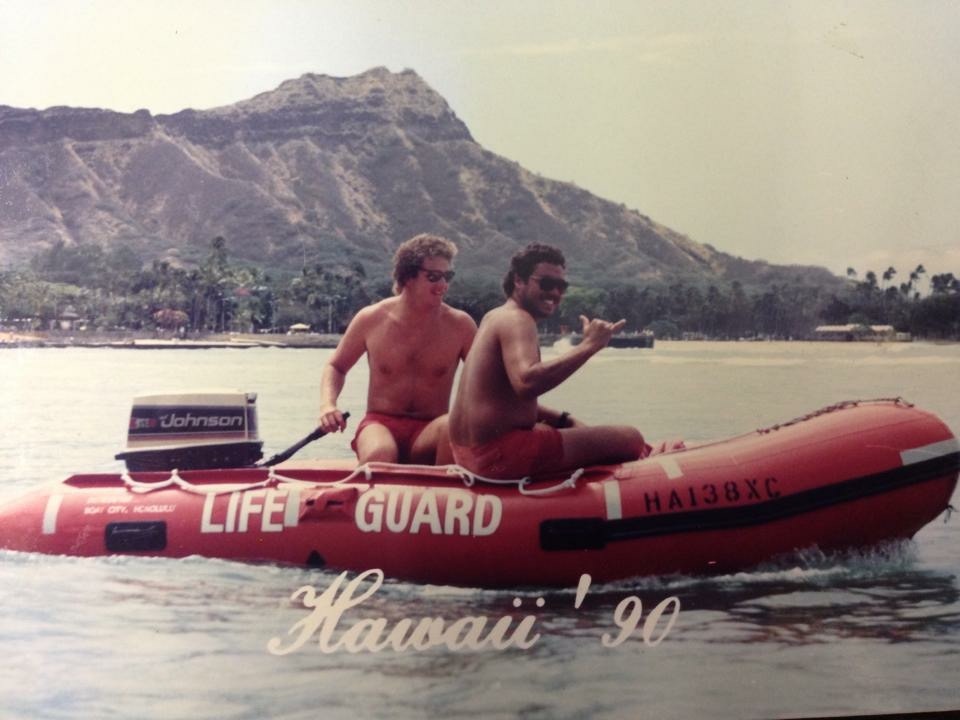 1991
While surfing Waimea Bay in the Eddie Aikau Big Wave Invitational lifeguard Brian Keaulana wiped out for a two-set hold down. While tumbling underwater he began thinking, "God here I am, in the same position of the people I see when they drown." When he came up, the next wave was even bigger. There next to him in the impact zone was a friend Squiddy Sanchez on a stand up Jet Ski saying, "Brian, you alright?" and pulled him from the impact zone. This sparked a vision in Brian who immediately worked with fellow Lifeguards Terry Ahue and Mel Puʻu to retrofit personal watercraft for surf rescue.
1992
Personal Watercraft (PWC) are incorporated in the lifeguard program as a rescue tool for the North and Leeward Coast Districts for high surf rescue.
Keawaʻula Beach at Kaʻena Point State Park is located at the westernmost point on the island of Oʻahu. The beach is exposed to high surf; a strong shore break; and a strong, often severe, current. The remote, pristine site attracts many surfers, sunbathers, swimmers, and waders. The combination of dangerous physical features and heavy use by patrons increases the risk for water-related injury and death. From 1985 to 1991, two drownings and 40 near-drownings occurred at Keawaʻula Beach. Although the State of Hawaiʻi does not provide lifeguards, it elected to contract with the City and County of Honolulu to place lifeguards at Keawaʻula Beach beginning in January 1992.
1993
Moi Hole - An amazing surf rescue happened in 1993 when 26-year-old tourist Hugh Alexander was knocked off a 20-foot rock ledge near Yokohama Beach on the Waiʻanae coast and was trapped in a sea cave known as a "Moi Hole" for more than two hours as it was pounded by 10 to 15 foot waves. Legendary waterman and lifeguard Brian Keaulana, dodging the giant waves, attempted to drive a Jet Ski with lifeguard Craig Davidson on a rescue sled up to the cave to rescue the man. But the vehicle ran onto a rock which pierced the hull, disabling it. Davidson swam out through the waves and was picked up by a rescue helicopter. Keaulana swam to shore, raced to his house in Mākaha to get another Jet Ski. This time, with new partner Earl Bungo, they gunned the Jet Ski back into the boiling surf and managed to pluck Alexander from the mouth of the cave. But then a big wave knocked both Alexander and Bungo from the sled and against the rocks. Keaulana, putting his own life on the line again, charged back into the watery mêlée, putting the Jet Ski between the men and rocks. Once the two were back on board, Keaulana shot the Jet Ski seaward, just as a new set of large waves came rolling in. Keaulana got an award from the U.S. Lifesaving Association in San Diego for the rescue.
1996
The Water Safety Division moves into sub-stations in the Ala Moana Beach Park area and into new facilities in the Waikīkī Beach area.
1997
The Water Safety Division is renamed by Parks Director William Balfour to "Ocean Safety and Lifeguard Services Division."
The Ocean Safety Division moves into a new substation at the Ke Waena Beach area on the North Shore.
The Ocean Safety Division, Windward operations moves from Koko Head District Park to expanded facilities at the former Job Corps facility at Koko Head.
The Division's first Jet rescue-boat is dedicated by Mayor Jeremy Harris in honor of Pua Mokuau.
1998
The Ocean Safety and Lifeguard Services Division, in a City wide re-organization, is moved from the Department of Parks and Recreation to the newly created Emergency Services Department, along with the Emergency Medical Services Division.
Jan. 15, 1998 – The Queen of Mākaha Rell Sunn passed away after a long battle with cancer. One of the most popular and famous lifeguards in Ocean Safety history, she was a fixture at Tower 47 in Mākaha from 1977 through the late 1980s, and has inspired countless women to follow her footsteps in the ali'i red shorts and gold shirt. She was the City's first woman to lifeguard the Leeward Coast.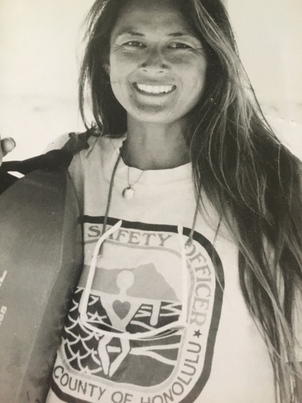 2002
Fiberglass tower installed at Sandy Beach – 4Bravo.
2006
Makapuʻu tower installed/only tower needed air support/biggest challenge/hurdle.
The City Charter gives Ocean Safety authority to respond as the "primary responder" on the beaches of Oʻahu:
CHAPTER 6 DEPARTMENT OF EMERGENCY SERVICES
Section 6-603. Powers, Duties and Functions -

(b) As to ocean safety
(1) Be the primary responder to emergencies arising on the beach and in the near shore waters;
(2) Be responsible for ocean safety training, educational, and risk reduction programs relating to ocean safety.
(c) Perform such duties as may be required by law.
(1992 General Election Charter Amendment Question No. 16; 1998 Reorganization; 2006 General Election Charter Amendment Question No. 10; 2012 Reorganization)
2010
Project completion (final towers installed at Laniākea/Kailua/Hanauma Bay/Waikīkī). A total of 40 towers were replaced/installed over 8 years.
2013
Ocean Safety adds Rescue 6 (Rescue Watercraft Team) to Kailua.
2014
Longtime former C&C lifeguard John Silberstein hired as Ocean Safety Administrator and works quickly and diligently to re-classify the position as Chief of Ocean Safety.
2015
Ocean Safety receives a 21' Boston Whaler rescue-boat through a donation from HCDA and stands up a field support office at Kewalo Basin Small Boat Harbor.
2016
Veteran lifeguard Kevin Allen - who worked his way through the ranks from contract Water Safety Officer I to Lieutenant to Captain - is promoted to Chief of Operations, replacing Jim Howe, who held the position for more than two decades.
Four new Lieutenant positions were created, one in each operational district.
2017
After spearheading changes that bring Honolulu Ocean Safety more in line with National Incident Management System parameters, Administrator John Silberstein resigns as and returns back to a position with the State of Hawaiʻi DLNR.
Ocean Safety adds Rescue 7 (Rescue Watercraft Team) to the west side.
Ocean Safety adds Rescue 8 (Rescue Watercraft Team) to town.
2018
The Ocean Safety Division Administrator position is reclassified as Chief of Ocean Safety for the City & County of Honolulu and a nationwide search begins.
Eight more Lieutenant positions were added, two to each district.
2019
Hanauma Bay becomes its own district, making five operational districts for Ocean Safety. A Captain and three Lieutenant positions are added for District 5.
Late in the year, an unprecedented level of political and public interest resulted in passage of a bill by the Honolulu City Council requiring Ocean Safety to have a program for "dawn to dusk" coverage for Oʻahu by Summer of 2021. Mayor Caldwell signed it into law in December.
2020
Towers are closed on Oʻahu for five weeks when Mayor Kirk Caldwell closes beach parks from March 18 to April 26 for public safety reasons. Ocean Safety goes mobile with an average of 45 mobile units assigned to Oʻahu per day, on duty from dawn to dusk.
Ocean Safety began using Utility Terrain Vehicles (UTVs), or "mobile towers," in Waikīkī and Ala Moana as part of the mobile response during the Coronavirus/COVID-19 pandemic.
2021
A small part of the Ocean Safety workforce - mobile responders (Captains, Lieutenants, and rescue ski operators) begin working 10-hour workdays, four times a week, in order to "extend" Ocean Safety's duty hours. The program immediately results in better service, more lives saved, and more injuries prevented.
Riding a wave of community support for its lifeguards, Honolulu City Council members introduce a resolution calling on the city administration to make Ocean Safety a separate department. The resolution is passed 9-0, twice, but does not require the Mayor to take any action.
2022
Ocean Safety announces that it will sponsor and manage its own Junior Lifeguard Program for the first time in a decade. In the intervening years (2013-2022), city lifeguards formed a non-profit in order to run the wildly successful program themselves.
Ocean Safety conducts the largest recruit class in its history (30 new Guards) in order to continue meeting an increasing demand signal for service.
2023
Lifeguard Luke Shepardson takes two hours of vacation time to surf two heats of the prestigious Eddie Aikau Invitational while assigned to Tower 29 at Waimea Bay, and wins in a storybook finish to a great day of surfing on Jan. 22, 2023.
A special mahalo to retired Ocean Safety Chief Ralph "Buster" Wallwork and former Chief John Silberstein for accumulation of the above historical data.