About the Crisis Outreach Response and Engagement (C.O.R.E.) Program
The City and County of Honolulu's Crisis Outreach Response and Engagement Program (C.O.R.E.) began in December 2021. Our team consists of 2 operation managers, 3 field supervisors, 6 community health workers (CHWs), and 9 emergency medical technicians (EMTs).
C.O.R.E.'s Mission Statement
Through close collaboration and coordination, with an array of City programs and community partners, C.O.R.E. provides services to Oʻahu's unsheltered population. C.O.R.E. responds to crisis calls, from within the community, that are non-violent and do not require emergent medical assistance.
The response team includes emergency medical technicians and community health workers trained in relationship building, extending compassion, problem-solving, and crisis prevention intervention. C.O.R.E. is committed to supporting a diversified response system, that is adaptable to the needs of the participant, the community, and the resources of the responders. Once the identified crisis is addressed, C.O.R.E. will deploy a participant-centered follow-up routine that includes continual assessment of their needs and linkage to community resources when necessary.
C.O.R.E.'s Values
To engage and improve the quality of life for all people through compassion, empathy, and professionalism
Effectively and respectfully work with internal and external partners to foster continuum of care for consumers
To enhance the quality of services provided by receiving regular training in evidence-based practices such as trauma-informed care and crisis prevention intervention
To utilize a person-centered and culturally responsive approach, focused on the consumer's strengths and resources

C.O.R.E.'s Program Performance Measures and Goals:
December 2021 – December 2022
Length of Time Homeless

Goal: To reduce the number of people returning to the unsheltered system and promote long-term recovery.

Outcome: More than 50% of the participants identified themselves as chronically homeless. (Experiencing homelessness for at least a year or repeatedly while struggling with a disabling condition such as a serious mental illness, substance use disorder, or physical disability.)
Income & Job Growth

Goal: To connect participants and bridge gaps in financial support and/or independence through the strategic use of resources such as those offered by government and local agencies

Outcome: Our staff has assisted participants with obtaining SNAP benefits, supplemental security income, social security disability insurance, and more. For people who have reported their EBT cards as lost or stolen, C.O.R.E. has assisted with the replacement process while following up with the person every step of the way. For people who lost their IDs, C.O.R.E. has helped with all the legal documentations required to get a replacement state ID, and helped the individual to gain access to an existing bank account. C.O.R.E. has collaborated with local programs to help people who are homeless or at-risk for homelessness to get workforce ready and support people looking for jobs.

Outreach and Engagement

Outreach and Engagement
Goal: To build rapport and increase the number of participant referrals to housing and/or support services through a person-centered approach, focused on the person's strengths and resources.

Outcomes: C.O.R.E.'s CHWs build rapport with participants by following up and linking/relinking them to their case managers and care providers, and offer therapeutic support when necessary. Furthermore, C.O.R.E.'s EMTs assist with medical care during our community walks to promote recovery. From December 2021 to December 2022, C.O.R.E. had 1,066 outreaches, which were broken down into six categories: Wellness (44.9%), Medical (15.2%), Shelter (13.0%), Documents (9.1%), Financial (5.0%), and Other (12.8%).  Our CHWs and EMTs conduct daily outreach and engagement in Chinatown as well as areas of concern identified by the community.

Stabilization & Assessment

Goal: To assist with housing unsheltered participants regardless of disability or background.

Outcomes: Since the start of our program in December 2021, C.O.R.E. has worked one-on-one with 44 individuals to obtain necessary documents for appropriate placement. C.O.R.E.'s housing process starts through consent signing and completion of our intake packet to identify the participants' needs. Our team will follow-up with the participants to build rapport, link/relink to case management services, obtain legal documents, and assist with housing appointments. C.O.R.E. works with the participants to refer them to emergency and transitional shelters as well as rapid rehousing or boarding homes. We have successfully placed 17 out of 44 (38%) into an emergency shelter or transitional housing within the same week of consenting to services. C.O.R.E. has also successfully assisted in relocation services (moving out-of-state), and has reconnected individuals again with their families so they are off the streets.  


Media Coverage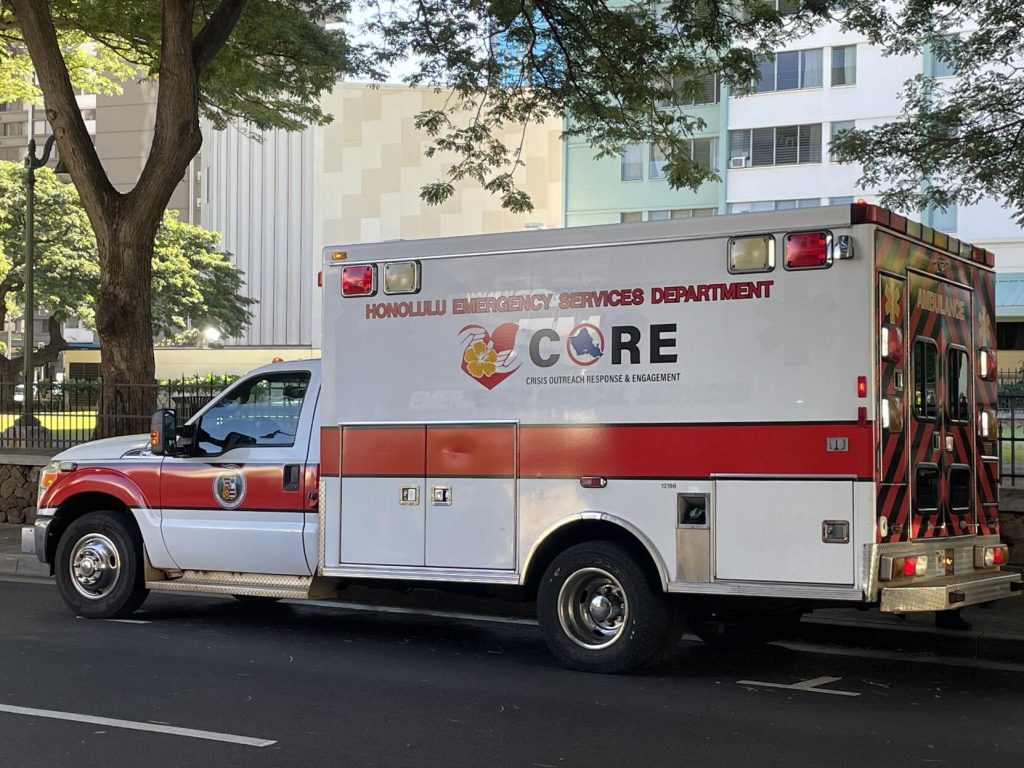 C.O.R.E. Rolls On After One Year Of Service
KITV looks at the program one year after the program's initiation.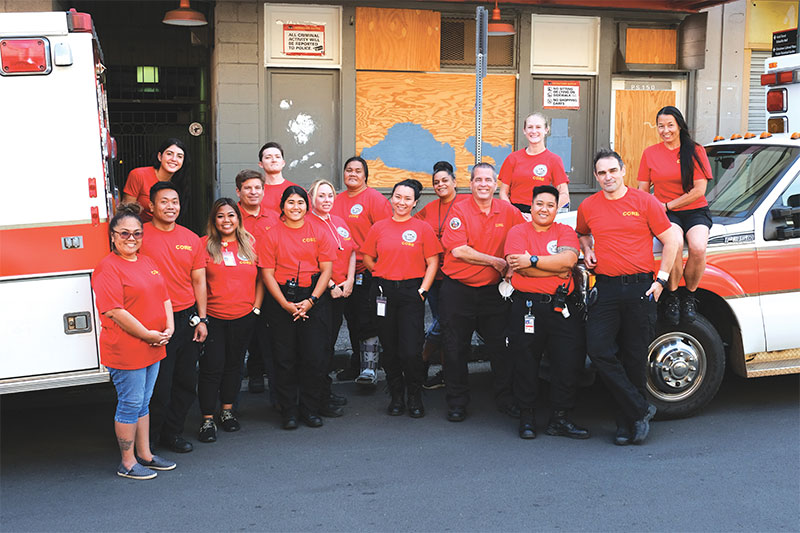 C.O.R.E. Values
At the heart of Honolulu Emergency Services Department's newest program is a hardworking team looking out for and taking care of the city's houseless population, with director Dr. James Ireland leading the way.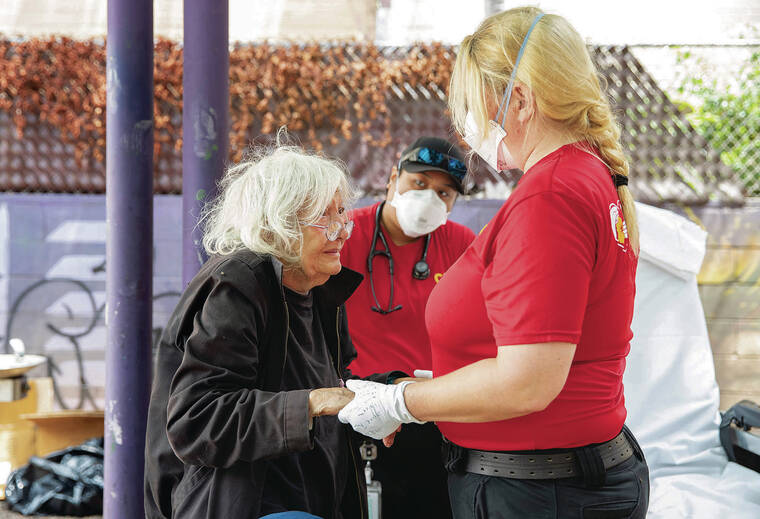 Honolulu's C.O.R.E. Program Begins Outreach in Waikīkī, Where Unsheltered Homelessness is on the Rise
The Crisis Outreach Response and Engagement program sends emergency medical technicians and community health workers to respond to community concerns and nonviolent, homeless-related 911 calls, and conducts outreach aimed at getting unsheltered homeless people housed.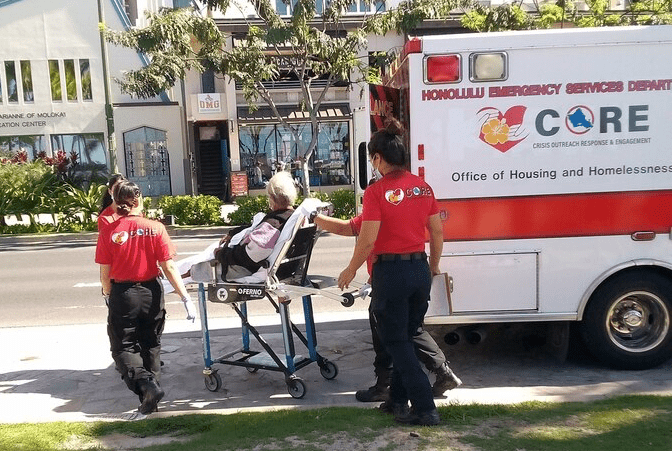 City's New Crisis Outreach Team Aims to Take Strain Off Hospitals, First Responders
It's been a longtime concern: Homeless people calling 911 for problems that aren't emergencies. Officials say up to 25% of 911 calls in Downtown Honolulu are from individuals living on the street and in need of food or minor medical care.

Contact Us

If there are concerns about homeless individuals or groups in your neighborhood that need help, you can email HonoluluCORE@honolulu.gov or call the C.O.R.E. hotline at (808) 768-2673 to ask for assistance. This line is for non-emergencies only and calls will be returned as soon as possible.