Tower Information
Hours of Operation
Honolulu Ocean Safety is the primary responder for emergencies on beaches and in the near shore waters (out to one mile) for the entire shoreline of Oʻahu, all 227 miles of it. Ocean Safety staffs 41 Lifeguard towers and 24 mobile units daily, 365 days a year. Towers are generally open from 9 a.m. to 5:30 p.m. daily, with some exceptions in Waikīkī and Hanauma Bay.
Ocean Safety is part of the city's 911 system, and mobile responders are dispatched to 911 calls for assistance from 8 a.m. to 6:30 p.m.
Tower Closures
As the City & County continues to grow an extended hours program for coverage, towers are sometimes closed for staffing reasons. Sign up for alerts from the City and County of Honolulu's website, hnl.info, or download the mobile app. Any tower closures will be announced there.

Tower Locations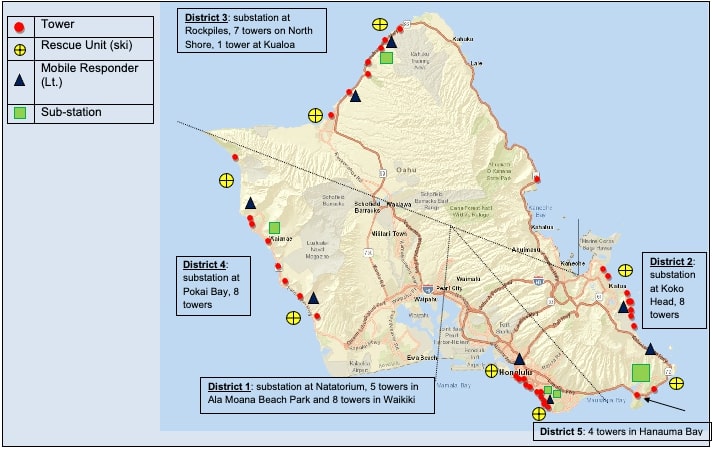 | Tower Name | Location | Address |
| --- | --- | --- |
| Ala Moana Sub Station | Ala Moana Beach Park | 1201 Ala Moana |
| Tower 1B | Ala Moana Beach Park | 1201 Ala Moana |
| Tower 1C | Ala Moana Beach Park | 1201 Ala Moana |
| Tower 1D | Ala Moana Beach Park | 1201 Ala Moana |
| Tower 1E | Ala Moana Beach Park | 1201 Ala Moana |
| Tower 1G | Magic Island | 1365 Ala Moana |
| District 1 Sub Station | Natatorium | 2815 Kalākaua Ave. |
| Tower 2A | Sheraton Moana | 2367 Kalākaua Ave. |
| Tower 2B | Waikīkī Beach Center | 2401 Kalākaua Ave. |
| Waikīkī Police Station | Waikīkī Police Station | 2425 Kalākaua Ave. |
| Tower 2C | Kūhiō Beach Park | 2479 Kalākaua Ave. |
| Tower 2D | Kūhiō Beach Park | 2501 Kalākaua Ave. |
| Tower 2E | Queen Kapiʻolani Beach Park | 2601 Kalākaua Ave. |
| Tower 2F | Queen Kapiʻolani Beach Park | 2709 Kalākaua Ave. |
| Tower 2H | Kaimana Beach Park | 2815 Kalākaua Ave. |
| District 2 Sub Station | Kokohead District Park | 423 Kaumakani Street |
| Tower 3A | Hanauma Bay | 7455 Kalanianaʻole Highway |
| Tower 3B | Hanauma Bay | 7455 Kalanianaʻole Highway |
| Tower 3C | Hanauma Bay | 7455 Kalanianaʻole Highway |
| Station 3E | Hanauma Bay | 7456 Kalanianaʻole Highway |
| Tower 4A | Awāwamalu | 8439 Kalanianaʻole Highway |
| Tower 4B | Awāwamalu | 8439 Kalanianaʻole Highway |
| Tower 5 | Makapuʻu Beach Park | 41-095 Kalanianaʻole Highway |
| Tower 6A | Waimānalo Beach Park | 41-741 Kalanianaʻole Highway |
| Tower 6 | Waimānalo Bay Park | 41-043 ʻĀloʻiloʻi Street |
| Tower 7 | Bellows Field Beach Park | 41-1201 Kalanianaʻole Highway |
| Tower 8 | Kailua Beach Park | 20 S. Lihiwai Road |
| District 3 Sub Station | District 3 Sub Station | 59-446 Ke Waena Road |
| Tower 9 | Kualoa Regional Park | 49-479 Kamehameha Highway |
| Tower 25 | Sunset Beach Park | 59-360 Kamehameha Highway |
| Tower 26 | ʻEhukai Beach Park | 59-337 Ke Nui Road |
| Tower 27 | Ke Waena | 59-469 Ke Waena Road |
| Tower 29 | Waimea Bay Beach Park | 61-031 Kamehameha Highway |
| Tower 30A | Chun's Reef Beach | 61-335 Kamehameha Highway |
| Tower 30B | Laniākea Beach | Kamehameha Highway |
| Tower 31 | Aliʻi Beach Park | 66-105 Haleʻiwa Road |
| District 4 Sub Station | District 4 Sub Station | 85-641 Farrington Highway |
| Tower 41 | Nānākuli Beach Park | 89-269 Farrington Highway |
| Tower 42 | Kalanianaʻole Beach Park | 89-229 Farrington Highway |
| Tower 43 | Māʻili Beach Park | 87-021 Farrington Highway |
| Tower 45 | Pōkaʻī Bay Beach Park | 85-923 Bayview Street |
| Tower 47 | Mākaha Beach Park | 84-369 Farrington Highway |
| Tower 50 | Keawaʻula Beach Park | 81-601 Farrington Highway |
| Training | ʻĀina Haina Training | 939 Hind Luka Drive |