About the Junior Paramedics Program

This program is currently on hold until further notice.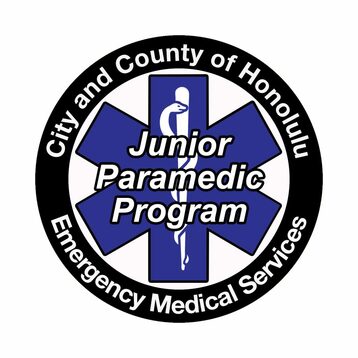 The EMS Junior Paramedic program is geared towards high school students in grades 9 – 12. The program provides participants who may be interested in a career with EMS or any medical related field with training, hands-on experience, and community services. The program also encourages and promotes teamwork, leadership skills, responsibility and character development. Junior Paramedics will have the opportunity to learn about various public safety agencies and the value of networking.
For more information, email the EMS Junior Paramedic Program at esdemsexplorers@honolulu.gov.

Testimonials
"The Junior Paramedic program introduced me to the world of emergency medicine, which eventually laid a foundation and led me to pursue a career as a Paramedic. This program equipped myself and many other high school students with valuable skills, knowledge and experience needed to react in an emergency situation. It was a great program and a fun way to spend summer."

Kaleo Souza, Honolulu EMS Paramedic
"Since I was a teenager, I always dreamed of finding a career where I could serve the community. I am so glad I took the opportunity to join the Jr. Paramedic Program, which opened the door to my future! During the program, we learned life-saving skills that I now use every day. I also made life-long friends and had the best mentors who I now call my colleagues. If you're looking for an educational, challenging, and exciting program, join the Jr. Paramedics!"

Cameron Hara, Honolulu EMS EMT