A Timeline of Our History
1910
The Queen's Hospital begins private ambulance service
1916
The Honolulu Police Department (HPD) begins the city's first ambulance service.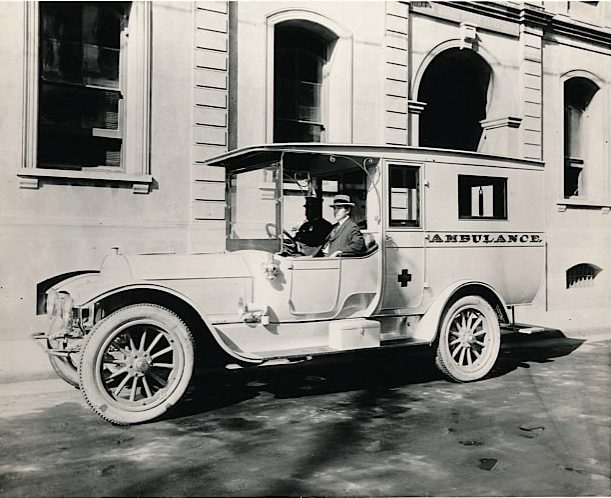 1917
HPD hires full time ambulance attendants.
HPD transfers its ambulance service to the Health Department.
1931
24 hour/day ambulance service is established.
1950s
City and County crew member next to his Packard ambulance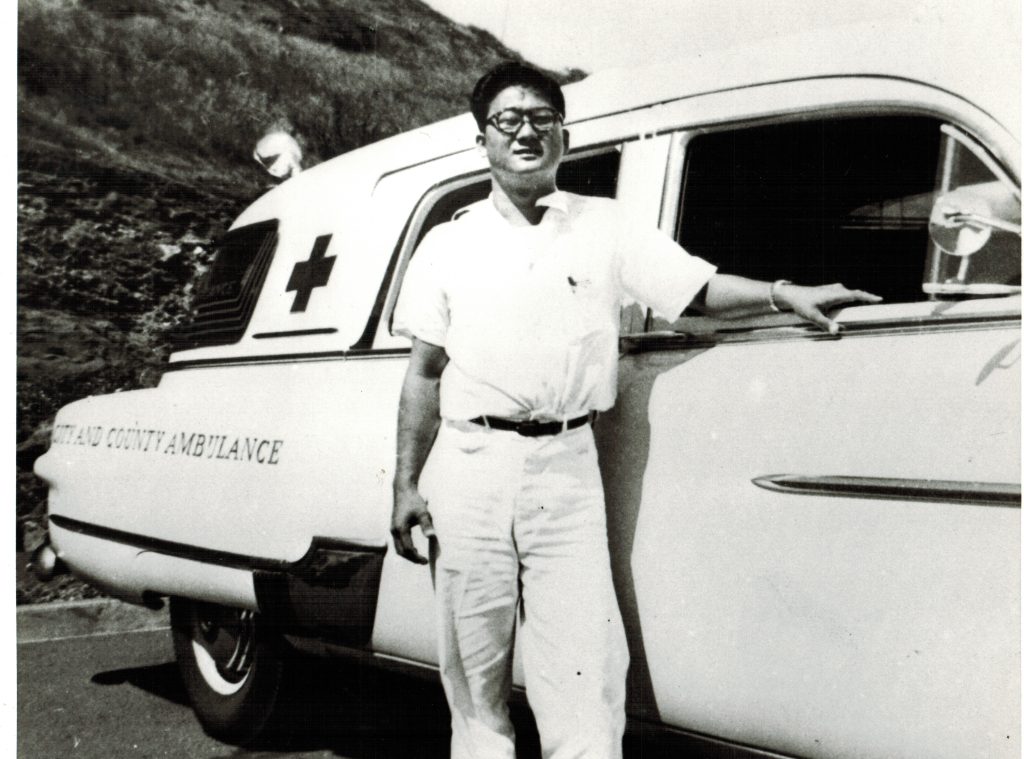 1960's
Basic life support and CPR classes begin for ambulance attendants.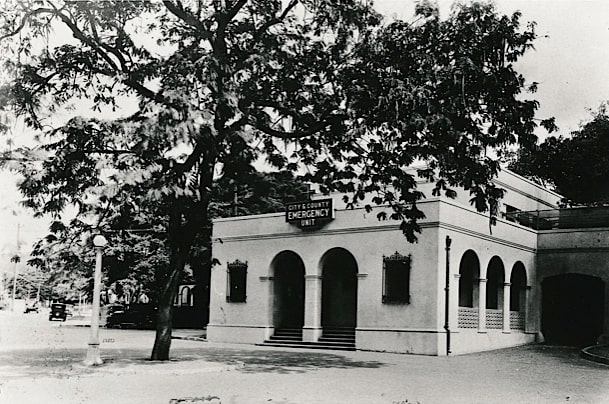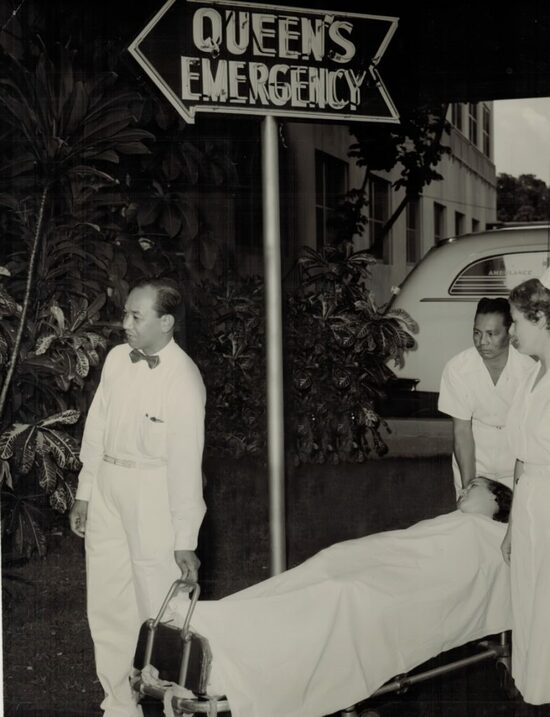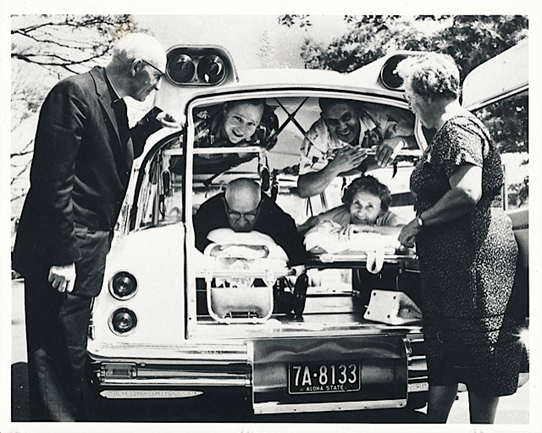 1970's
Dr. Livingston Wong pushes for the advancement of Paramedics.
1971
The Emergency Medical Technician (EMT) program was established in November.
The MEDICOM radio network for ambulance and hospital communication is established nationally.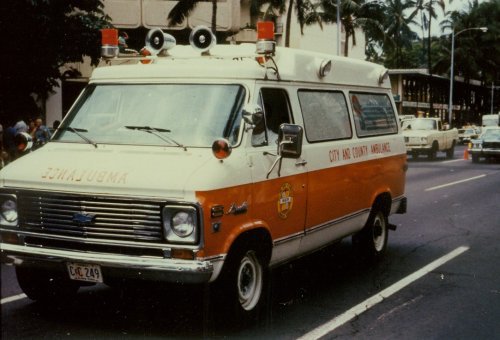 1972
The Mobile Intensive Care Technician (MICT) program begins.
Reta Pozzi, known as "mother" because she walked quickly and the students followed her like ducks, began instructing the earliest MICTs.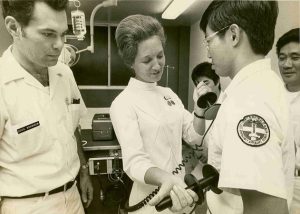 1973
First Mobile Intensive Care Technician (MICT) program graduates.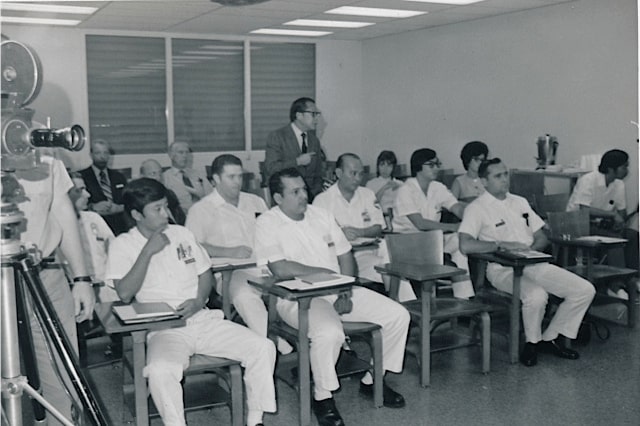 1974
Agreement with Arm 68th Medical Detachment integrates helicopter MEDICAC transport with the City and County of Honolulu EMS.
1975
The Oʻahu EMS Advisory Board was established in March.
Oʻahu's 911 system is completed.
1976
City and County of Honolulu has 15 ambulance vehicles in its fleet:
Waiʻanae
Waipahū
ʻAiea*
Wahiawā*
Kahuku*
Kāneʻohe
Kailua
Waimānalo – Basic Life Support Unit
Waialua – Basic Life Support. 40hrs per week, Wednesday to Sunday
Wailupe
Pāwaʻa One
Pāwaʻa Two Basic Life Support. M-F, 7-3pm
Baker One
Charlie One
Metro One
ʻAiea, Wahiawā and Kahuku were at one time contracted units. As EMS hired more MICTs, EMS took back these three units.
Metro One started out as a Basic Life Support unit part time at the old Honolulu Police Department lot makai of the main station between Young and S. King Streets. There is a park there today.
The ʻAiea Unit was located at a facility called Pearlridge Clinic, where Pali Momi Medical Center is today.
The Wahiawā Unit was in a room at Wahiawā Hospital; the Kahuku Unit was located in the Kahuku Hospital.
The Charlie One Unit was located in the back of the Kuakini Medical Center.
Waimānalo opened as an Advanced Life Support (ALS) unit as a result of a lawsuit. A doctor's son drowned in Waimānalo's area and the father filed a lawsuit and part of the settlement was that Waimānalo had to be upgraded to ALS.
Sea rescues are coordinated between the US Coast Guard, Honolulu Fire Department (HFD) and ambulance service.
1977
Mobile Intensive Care Technician Assistant (MICT A) program begins.
Advanced Cardiac and Trauma Life Support classes begin.
Federal EMS standards are achieved.
1978
First responder courses are established for police, firefighters and lifeguards.
Handheld radios implemented to communicate with Dispatch and hospitals.
1989
The Waipahū Unit went into service out of the Honolulu Fire Department's Waipahū Fire Station.
1998
Established integrated 911 console system to facilitate information sharing.
The City and County of Honolulu Emergency Services Department is established.
2000
Adopted a Computer Aided Dispatch (CAD) system to digitize records management.
2005
The Makakilo Unit went into service.
The Nānākuli Unit began service.
2006
Adopted ProQA (Professional Quality Assurance), a priority dispatching program, to streamline medical response.
2008
911 mapping implemented to triangulate a caller's location.
2011
Migrated radio system to an 800MHz platform.
2012
ʻEwa Beach Unit opens following the close of St. Francis West.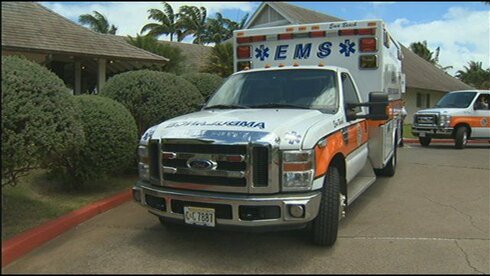 2013
Established an Integrated Computer Aided Dispatch (CAD) system with HFD.
Migrated to an IP based 911 system.
2018
EMS migrates to FirstNet Communication System.
The FirstNet network was created for First Responders after 911.
Waipiʻo unit opens in Dec. 2018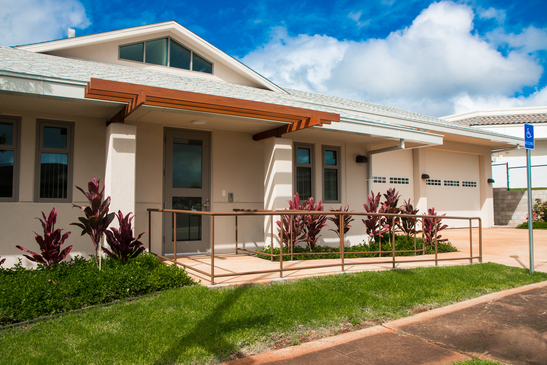 2019
Salt Lake Unit opens.
EMS migrates to the Joint Traffic Management Center.
2020
EMS migrates to the P25 radio system.
2021
EMS activates the Catalyst back up radio system.
2022
On Memorial Day, MICTs Sean McGuire and Troy Higuchi were greeted by Herman Encarnacion, who was in the first MICT class in Hawaiʻi.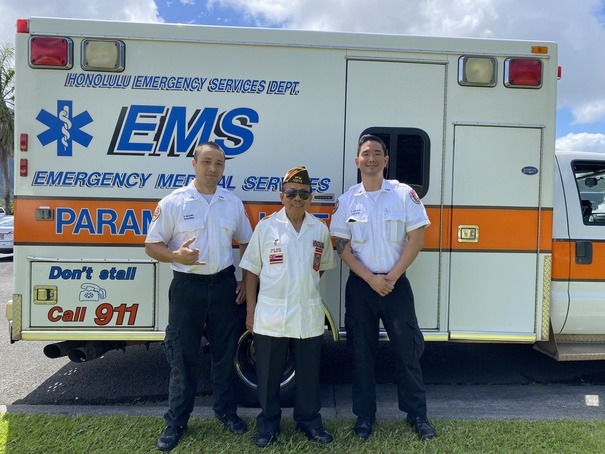 In December EMS opened a 12-hour unit for the Waikele area based out of of the Waipi'o Unit.