Remembering Our EMS Ohana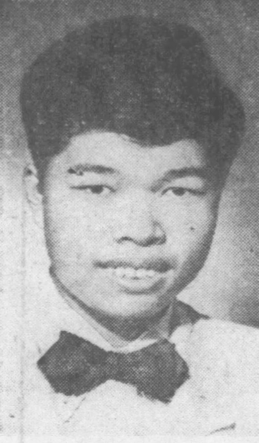 Nolan Tin Wo Ho
Feb 3, 1933 - Feb 1, 1958
Nolan T.W. Ho, Honolulu Ambulance Service, Honolulu, HI, died in the line-of-duty on February 1st 1958, as a result of an ambulance accident. Ho, 24, was transporting a patient from Kailua Road to St. Francis Hospital, when the back door swung open and he fell out.
He was born in Kurtistown, Hawaiʻi and is survived by 15 brothers and sisters.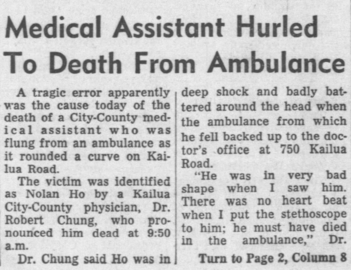 Words From Nolan's ʻOhana
Nolan Ho grew up working on his father's vegetable farm in Kurtistown, Hawaiʻi with his 15 siblings, caring for sweet potato, head cabbage, corn and kalo (taro). Ho, affectionately nicknamed "Chopper" relocated to Oʻahu with his ʻohana and graduated from Kaimukī High School, 1950. He was an avid fisherman, keen on the best catch whether by spear or pole, day or night.
Chopper trained in martial arts and excelled at aikido. Described by loved ones as kind, helpful and generous, it came as no surprise when he entered the medical field, first at the State Hospital in Kāneʻohe and then as an ambulance attendant stationed at Maluhia Hospital on Hala Drive.