Press Releases
Click on a title to view each press release.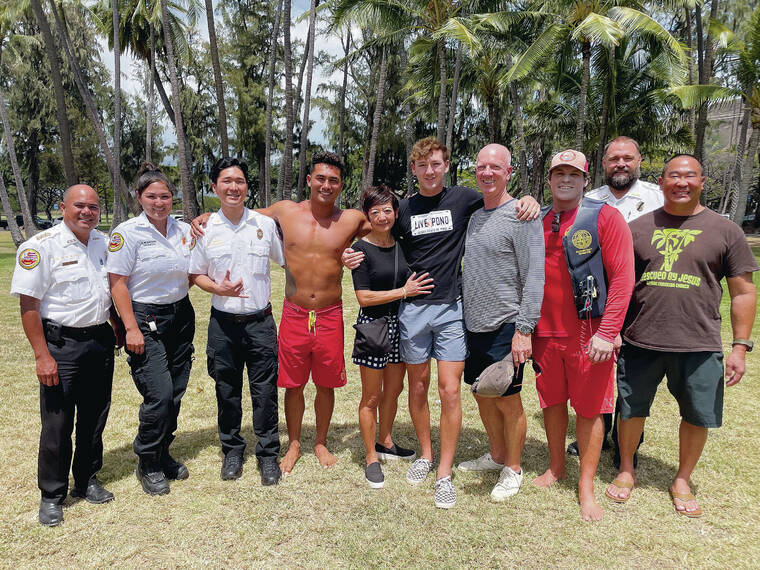 Survivor Reunion Stories
Honolulu Emergency Medical Services and Honolulu Ocean Safety have played a vital role in countless survivor stories throughout their rich histories. Read some of the heartwarming survivor stories that have been documented over the years.
Read the Stories

Media Coverage

Read some of the latest news stories published by our media partners.
National Telecommunications Week 2023: What to know before you need to call 911.

KHON interviews Ocean Safety dispatcher to learn how to be prepared when calling 911 for an ocean emergency.
Read the khon story
Iolani School Teacher Saves Life Of Elderly Choking Victim

Honolulu EMS talks to HNN about the importance of knowing life-saving measures and thanks the Good Samaritan for stepping in to help.
Read the hawaii news now story
Hawaii sees dramatic increase in fentanyl-related overdoses reported in September

The deadly drug fentanyl has surfaced in Honolulu. Hawaii News Now talks to EMS about what crews are seeing on the road.
Read the hawaii news now story
Preliminary Investigations Find Oxygen Connection Started Ambulance Fire

Separate investigations conducted on the fire that erupted in an EMS ambulance in August 2022, found it sparked when the main oxygen link was connected to a portable oxygen tank.
Read the Story on civil beat
HESD Director Gives Update On The EMS Ambulance Fire

Honolulu Emergency Services Department Director Jim Ireland gives an update on the tragic ambulance fire, that left a patient dead and an EMS paramedic critically injured.
Read the update on the EMS ambulance fire
Scores of Ocean Rescues Made on Oʻahu's South Shore During 'Historic' South Swell

Warnings about a "historic" south swell with waves approaching 20 feet and dangerous rip currents predictably did little to keep surfers out of the water Saturday, leaving Honolulu Ocean Safety personnel to handle the consequences.
Read About the historic swell
Ocean Safety Crews Report a Busy Day in Oʻahu's Waters

Honolulu Ocean Safety lifeguards made a number of rescues today around Oʻahu of people in the ocean who found themselves in trouble.
Read about the rescues
At 10, He's Credited With Saving His Mom's Life. All in a Day's Work for This 'Junior Paramedic'

Cody Agnell helped save his mom's life with his quick thinking and call to 911.

Read Cody's story

Videos
Watch some of our featured videos.
KITV4 Rides With Honolulu EMS During the Covid-19 Pandemic: Highlighting Heroes
Honolulu Ocean Safety Keeping the South Shore Safe
Hawaiʻi News Now Follows EMS Through the Coronavirus Pandemic
Honolulu EMS: Coronavirus Crusade